Picture Books: Stepping Stones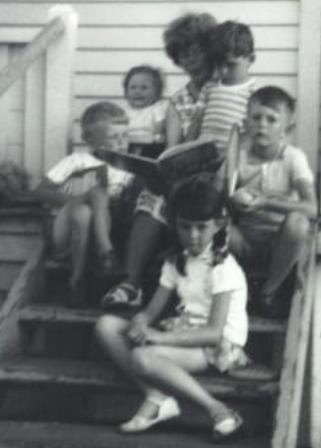 When my eldest son was born he was given, by his godparents, a set of the Winnie-the-Pooh books I thought it at the time a very sensible present, a lot more sensible than the steady flow of booties and bonnets. It took him some time to reach the age of appreciation of course but in the fullness of time they became beloved stories by him and his sisters and brothers.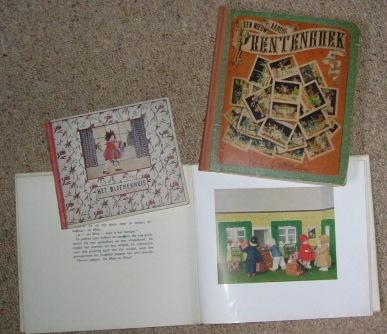 But before that happened, we all enjoyed the age of picture books, owned and borrowed from the library, in large quantities. They became the stepping stones to literacy: words got anchored down by the pictures and very often became part of the child.
I have vivid recollections of picture books from my own far-away childhood. They belonged to a little cousin, an only child, whose parents bought her all kinds of lovely books. She was the same age as I was but she died suddenly a few days after her fourth birthday. Her books stayed in the bookcase and when I and my brothers visited afterwards we were always allowed to enjoy them. Our uncle read to us out of them and much later I inherited some. They are a precious part of my large collection of children's books.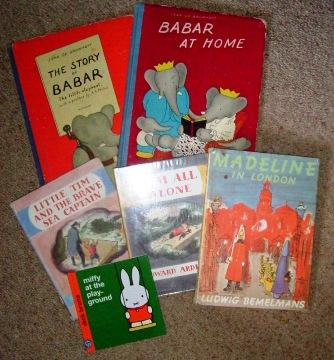 For my own children, many of 'The little Golden Books' were read and enjoyed, but the more substantial had eternal life like the 'Babar' stories, the 'Madeline' series, the books about Little Tim and many others, which also became popular with the next generation.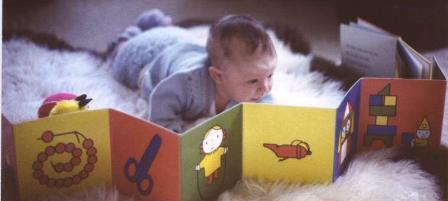 These were added to by new greats, like Dick Bruna's little books, Thomas the Tank Engine and even Noddy (but mainly for the pictures of toy figures and even Gollies).
Now those grandchildren have grown up and we – the Mad Hatter duo – are left with surveying the whole fascinating scene of picture books, starting in the early 1800s. There were first chapbooks (1 penny plain, tuppenny coloured):simple short texts, mainly religious and educational. Around 1820 they had blossomed into series of delightful stories and rhymes with accomplished full page pictures, very often hand coloured.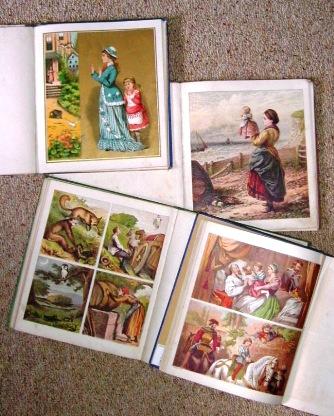 A decade later publishers and printers took advantage of the newly invented process of colour printing and children's books were the first to benefit. The early examples are timid affairs, but from the 1850s, many stunning books appeared, many with illustrations printed by a German firm J.M.Kronheim. The colours are vibrant and, to our eyes, reflect a darker age.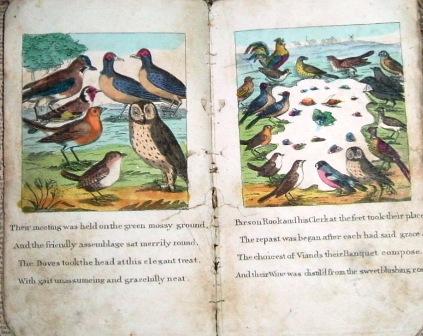 I have quite a number of examples in my collection, and I wonder sometimes how children reacted to them. Towards the end of the 19th century artists like Kate Greenaway, Randolph Caldecott & Walter Crane prepared the way for countless other artists to delight small children and their parents.
We are all acquainted with the 1920s and 30s pictures by Cecily M. Barker (the Flower Fairies), Susan Pearse (the Ameliarane series) and Anne Anderson. They, and many others from that period, are eagerly collected, partly out of nostalgia, but also because of their obvious visual appeal.
We all know the lovely books by Shirley Hughes, Helen Oxenbury, John Burningham and the creations of Dr Seuss and Bill Peet. It is a long, long list and it can be added to every year. We don't even have to move overseas to please the little ones. We have Lynley Dodd, Gavin Bishop, Ronda and David Armitage of Lighthouse Keeper fame, Dorothy Butler, Betty Gilderdale, Margaret Mahy …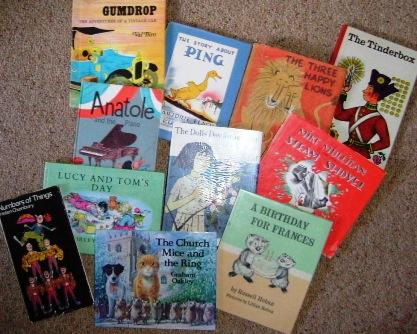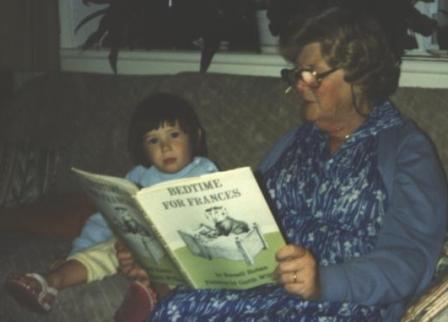 Every bookshop has shelves full of enticing picture books and so has 'Mad Hatter', at the latest count close to 2000 from early ones to the present time.
Jacoba Filbry
June 2006
Pop-up and movable books – A love affair
Children's books as a category are at the moment leading the list of most collected subjects (Book & Magazine Collector no 251, January 2005).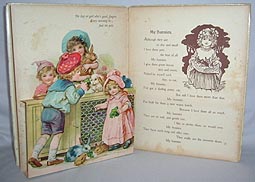 Not surprising, when you think of the enormous variety to choose from and of the attractive appearance of the majority. Even the most drab chapter books can have a special appeal through the illustrations or the story, fondly remembered from one's childhood. Fiction we read in adulthood will mostly fade, while the stories heard and read in childhood will remain with us forever, and picture books will always be the first and best remembered acquaintances.
Picture books have grown since the early 1800s from simple black and white affairs – sometimes hand-coloured – into the breathtakingly beautiful productions of today. And then there are the novelty books: pop-ups, movables – in short anything that stands out as different: colouring-in books, advertising leaflets, activity books, paper dolls with their different outfits in booklets or on thin card leaves, construction building sheets, shaped picture books, collections of board games…
This is a field apart in children's books that demonstrates a happy marriage (in most cases) of book and toy. Collecting these items is a challenge, because their fragility combined with the fact that anything that comes in contact with children's fingers has little chance of surviving.
My particular interest is in pop-ups and movables. I have a personal collection of several hundred, covering about 150 years. When books for the entertainment of children were finally published in the early 1800s, some inventive publishers added small devices to make them more attractive to their young customers – some had split pages to alter the picture and some had flaps to lift. In the late 1840s the publishing house of Dean started to create with the use of lithography all forms of movable books. They had their own art studio with artists and craftsmen and their first creation was "Dame Wonder's Transformations". A quite simple concept of – on the last page – the picture of an English girl: Miss Rose. The preceding pages have a small hole fitting her face, but showing the national costumes of several nations.
My earliest pop-up book is a Dean publication: "Tale of an old sugar tub with surprise model pictures".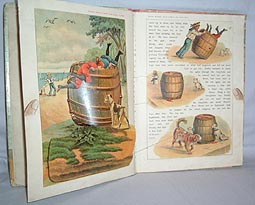 On alternative pages places are indicated in the margins with the instruction: hold firmly and open wide – pieces of thin string pull tight and bring forward parts of the picture. It is by no means perfect, but still a treasured early example.
Some years later the supremacy of Dean & Son was challenged by three German illustrators: Ernest Nister, Raphael Tuck and the master of them all: Lothar Meggendorfer, who created some sixty movable books. They were ably assisted by the high standard of colour printing in Germany, and especially in Bavaria. 
The original survivors are most elusive and fetch incredibly high prices, but during the late 1970s and the 1980s quite a few were reprinted as high quality facsimiles and are now collectables in their own rights.
In my own collection I have three original Ernest Nister books: 'Pictures every where" – the six colour plates change when folded back the bottom half; "Ups and Downs" with 6 dissolving scenes – a new picture slides over the first one by pulling a tab,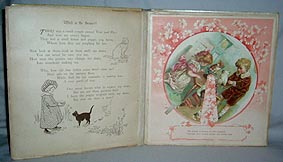 and "Buttercup Pictures" which has 7 scenes which can be changed by pulling a cloth tab all the way round. There is also an original Rafael Tuck where the pictures can be made 3 dimensional by pulling the loose part forward. They are all slightly faulty, but they form the nucleus of the collection. After the First World War, this kind of book disappeared for a while, probably because of the German connection, but was revived during the 1930s, when the first true pop-ups were published in England and in America. Between 1929 and 1949 the British book publisher S. Louis Giraud designed and produced a series of 6 annuals, the first for the Daily Express and later as an independent under the names of Strand Publications and Bookano Stories. They were, and still are, astonishing books with each volume containing at least 5 double-page spreads that erect automatically when the book is opened. An added attraction is that the scenes can be viewed from all sides and that there is an ongoing movement when the book is opened or closed slowly. They were produced quite cheaply on coarse paper, in crude colour reproduction and with cheap covers, but all the same they are well worth hunting for.
In America the pattern was similar and names to look out for are Julian Wehr, Walt Disney and Harold Lenz.
The next towering highlight (in my opinion) is a Czech architect and graphic artist Vojtech Kubasta.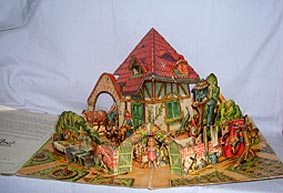 He was discovered in the late 1950s and published in England by Bancroft & Co/Westminster Books for the Prague publisher Artia. The first books were fairytales produced quite cheaply and in enormous numbers and in 37 foreign languages. They were highly imaginative with smooth action and additional mechanics. They open sideways and the colouring reminds of folk-art. There were 70 pop-up titles when he died in 1992 and all created and designed by himself. The stand-outs are the 'Panascopic Model Books'. Some titles are 'How Columbus discovered America', 'An American Indian Camp', 'Circus life' among many others.
During the 1980s and 90s there was a new flowering of the genre. In contrast to the earlier books there is a close co-operation between the original artist and author with designers and paper-engineers, printers and assemblers. With that in mind it is surprising that they can still be sold at a reasonable price.
My personal favourites? All the titles produced by Robert Sabuda, Chuck Murphy, Ron van der Meer & Jan Pienkowski.
Jacoba Filbry
January 2005
A Selection of available Pop-Ups and Movables
For more information on any please contact us.
1: Marty and the big-eared elephant. colour pictorial titlepage + 6 double-page 3-d animal pictures in colour by MAVIS STUCCI
2: The Nativity (notes by Johanna Hecht). watercolours by BORJE SVENSSON, adapted from an 18th century Neapolitan Christmas crèche
3: The Peter Rabbit pop-up book. 6 elaborate pop-ups with levers and flaps
4: William Tell. illustrated by PAVLIN/SEDA
5: ANNO, MITSUMASA – The Earth is a Sundial. illustrated in colour throughout, the history of telling the time explained with graphics, pop-ups, flaps etc.
6: ATWATER, RICHARD AND FLORENCE – Mr Popper's penguins. ill in colour by KARIN WILLIAMS, designed by DICK DUDLEY. 8 elaborate pop-ups with pull tabs and flaps to lift, mint – still in shrink wrap.
7: BALMER, HELEN – Jungle days : a pop-up book. mint, still in its original shrink wrap 'A jungle journal packed with pop-ups'.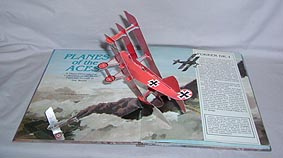 8: BOWDEN, JOAN – Planes of the Aces : a 3-dimensional collection of the most famous aircraft in the world. illustrated in colour by STEF SUCHOMSKI
9: BRIGGS, RAYMOND – Fungus the Bogeyman Plop-up book.
10: BROWN, F. LUCY RUDSTON – The story of Jesus (produced by S. Louis Giraud). ill by EILEEN M. WATTS – colour pictorial endpapers, 9 pop-up scenes in full colour, full page b/w ills
11: CARLE, ERIC – The honeybear and the robber : a moving/picture book
12: CARROLL. LEWIS – Alice's adventures in Wonderland : a pop-up
13: COLE, BABETTE – Don't go out tonight : a creepy concertina pop-up. 6 pull-out scenes in full colour
14: DREANY, E.JOSEPH – Indians in pop-up action pictures.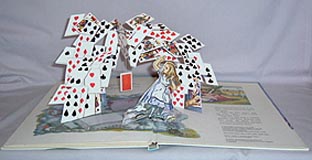 15: ERNEST NISTER – Animal Tales : a reproduction from an antique book (1894). five 3-dimensional scenes in full colour
16: KUBASTA, V. – Goldilocks and the three bears : an all-action treasure hour pop-up book. 6 double page colour pop-up scenes, 2 have action triggers
17: MEGGENDORFER, LOTHAR – The city park : a reproduction of an antique stand-up book. colour decorated brds, brightly coloured cut out scenes folded concertina wise
18: MEGGENDORFER, LOTHAR – The doll's house. 5 pop-up scenes connected by doors
19: NISTER, ERNEST – The children's picture book : a reproduction from an antique book. 5 full colour pop-ups plus other illustrations. A reproduction of 'The children' tableaux', first published in 1896 by Ernest Nister.
20: NISTER, ERNEST – Peeps into Fairyland : a reproduction of an antique picture book. 6 colour scenes in 3d when book is opened
21: PIENKOWSKI, JAN – ABC dinosaurs and other prehistoric creatures. 5 doublespread come to lifescenes
22: SEYMOUR, PETER – The Magic Toyshop : a dimensional storybook. colour pictures by MICHAEL WELPY, laminated colour pictorial boards depicting toyshop window with look-through windows, very elaborate triple page pop-up scenes at first & final openings
23: VAN DER MEER, RON (DESIGNED AND PRODUCED BY) – Roaring Lion Tales pop-up book retold by Alain Presencer. 4 double spread scenes in colour with elaborate pop-up action, pasted on each scene a colour pictorial covered booklet with story, laminated colour pictorial boards with rounded corners.
A SELECTION OF QUALITY ENGLISH PUBLISHER'S SERIES BOOKS
Publisher's series books were one way of making available, at an economical cost, in hard-back editions good, competently written children's stories. Many of them were beautifully produced and, especially with their dustjackets, make a most attractive display. These series are still very affordable, though they are becoming harder to find.
What follows is a selection of some of the more well known series.

Oxford Children's Library
This reprint series of children's classics was published by the Oxford University Press from 1958 – 1974. Authors include Rosemary Sutcliff, Nan Chauncy, William Mayne, C. Fox Smith, Eleanor Farjeon, Rene Guillot and Ronald Welch.
Hamish Hamilton
Of increasing difficulty and length but all have a strong, simple plot, a few,
clearly distinguished characters and large, clear print. All are much shorter than the average children's story book. Many are written by distinguished children's authors such as William Mayne, Dorothy Clewes, Barbara Willard and Joan Lingard.
– Gazelle Books for 5 to 8 year olds
– Antelope Books for 7 to 9 year olds
– Reindeer Books for 9 to 11 year olds
– Big Reindeer Books for 10 to 12 years
Along the same lines are:
– Acorn Library (Bodley Head)
– Pied Piper Books (Methuen)
– Early Birds (Kaye and Ward)
– Flying Foal Books (Harrap)
– Brock Books (Brockhampton)
– Wren Books (Burke)
These cover the whole range of children's fiction – fantasy, adventure and historical – but the most successful seem to be those which have their roots firmly in everyday life.
J.M. Dent
Pennant Books – cheap editions of their better-known, quality titles (Authors include Richard Armstrong, Primrose Cumming, Mabel Esther Allan and Noel Streatfeild)
Signal Books – covers titles of rather lower quality

'Children's Illustrated Classics' – A series of well over 70 titles containing most of the well-known classics, as well as many minor ones, and provides editions for young adults of a number of adult titles. All are beautifully produced with decorated cloth and attractive dustjacket and are illustrated in colour and black & white by well known artists including Charles Folkard, Joan Kiddell Monroe, E.H. Shepard, Lionel Edwards and Arthur Rackham.
Brockhampton Super Hampton Library
Includes both new titles and some reprints of popular stories. Authors include Pamela Brown, Dorita Fairlie Bruce and Ruby Ferguson.
Blackie's Chosen Books
Unabridged classics, well designed and illustrated. Authors include Jules Verne, George Macdonald and H. Rider Haggard.
Collins
Evergreen Library
Some of their best back-list titles which are attractively produced and aimed at the slightly older reader. Authors include Gillian Avery, C.S. Lewis, Monica Edwards and Naomi Mitchison.
Classics for Today
The titles in this series have been carefully abridged. They are illustrated in both colour and black & white by such artists as Pauline Bayne and William Stobbs.